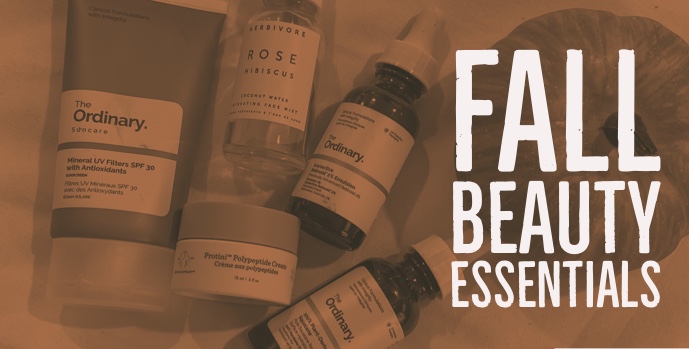 5 Best Fall 2019 Skincare Routine
Fall 2019 Skincare Routine : Welcome back to Blogtober! I have fallen off of the wagon a bit over the last couple of days but I am excited to get back on it and hopefully finish solid!
Today I want to chat a little about my skincare routine that I have been using. I should warn you that a lot of the products that I have been using are sample sizes, hence I am not showing my daily cleanser as I am trying to finish all my samples that have been cluttering up my bathroom. I have had some really good things pass through my routine as well as some not so good things but that all comes with the territory of trying new things, right?
Let's stop the yapping and start talking about what I have been loving and using on my skin!
We can start off with the herbivore rose water. I got this in a Sephora Box and I have been liking it. To be honest, I don't see as much of a difference with this as I see with my Lush one. It is nice and does the job but after using Lush for about 5 years, I just much prefer that one.
For day time serums I use The Ordinary Squalane which has been a game changer when it comes to my skin. I have really bad dry skin, even in the summer and this has been really helping my face not be so dry which is fantastic. I also love that it is so cheap but also really good for your skin!
For night time, I use The Ordinary Granactive Retinoid* 2% Emulsion which is used to aid in dullness and uneven texture as well as fine lines. It has also been such a game changer. I have seen that my skin is not as dull anymore and I love it. I have truly been loving The Ordinary and it has been doing such wonders for my skin.
For a face cream, I have been using up all the samples that I have had. I have been swapping out of both cruelty free and non-cruelty free things as people had gifted me a bunch of stuff which is great, but unfortunately sucks when it is not cruelty free. The most consistent one that I have been using is actually the birthday gift that you got this year at sephora. It is the Drunk Elephant Protini™ Polypeptide Cream. It is for dryness and dullness, although I felt like it does not actually help a lot in moisturising my skin which is really unfortunate.
I do believe that you should always wear a sunscreen. No matter the weather because it really does harm your skin. I use The Ordinary sunscreen in SPF 30 which I think is pretty decent.
This has overall been what I have been using the last couple of months. I also have been swapping out my eye cream due to having a lot of eye creams.
Let me know if you have any other recommendations that I can try! If you like this post, be sure to check out some of my other blogtober posts that I have done so far! You can see what I got in my RocksBox here and remember to use code Chellexoxo for your first month FREE!
Read More: